IPEIA Education Standing Committee News – February 2018
U of A and SAIT full-day Student seminars, "Engineering and Code Essentials for the Oil, Gas and Petrochemical Industries",  were once again a great success!!!
Special thanks go out to Andre McDonald Ph.D, Dept. of Mechanical Engineering, U of A and Josh Brewster CET, RSE Academic Chair for WET/NDT School of Manufacturing at SAIT. They and their students on-going support and efforts to help organize and hold these seminars at their respective institutions are essential to ensure the on-going success of these seminars.
Thanks as well to all the presenters, and to Jan Kriel for joining us for the day.
U of A Volunteer Presenters were; Rick Marsden, Ada Fong, Paul Kristensen, Chris Horkoff, all from industry, and Lou Petrusevski of ABSA.
SAIT Volunteer Presenters were; Theo Abels, Rick Marsden, Chris Horkoff, Harold Babuik, Ada Fong, all from industry, and Djordje Srnic of ABSA.
120 students, mostly from the Mechanical and Materials Engineering Programs attended the U of A January 27 seminar. 54 students mostly from the WET and Power Engineering Technology programs, and 4 CCIS PEIT Program students attended the SAIT February 10 seminar.
We look forward to supporting these seminars again in 2019.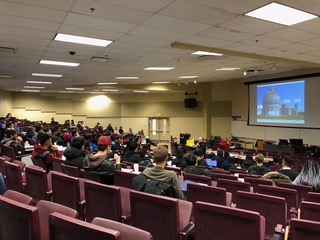 2018 Student Seminar "Engineering and Code Essentials for the Oil and Gas Industry" on again for 2018!
IPEIA is excited to announce that once again, IPEIA Education Standing Committee and volunteers are working with the U of A in Edmonton and SAIT in Calgary to provide two, one day seminars for the students at these and other area institutions (NAIT and U of C). The seminar has been on-going for a few years at U of A and was held for the first time at SAIT in 2017.
The seminar is presented by volunteers with extensive experience in the pressure equipment and pipelines industries. The focus and objective is to use real life applications of the various codes, standards and regulations so students have a base understanding of what they will encounter should they choose careers in the Oil, Gas, Petrochemical and other similar industries.
Seminar dates are January 27th is Edmonton and February 10th in Calgary.